Gift Ideas for New Moms
Mother's Day is special for moms everywhere, but her first Mother's Day is probably one of the sweetest. Becoming a mom for the first time is full of exciting and rewarding experiences; from her baby's first steps, to the first time she hears the words "mama." Everyone knows the connection between a mother and child is strong, and having those small, precious moments can mean the world.
With that said, we know there can be a lot of pressure when it comes to Mother's Day gift ideas for new moms, which is why we wanted to help you with some new mom gift suggestions that are sure to deliver smiles. Sending the new mom in your life their first Mother's Day gift is definitely something she will never forget.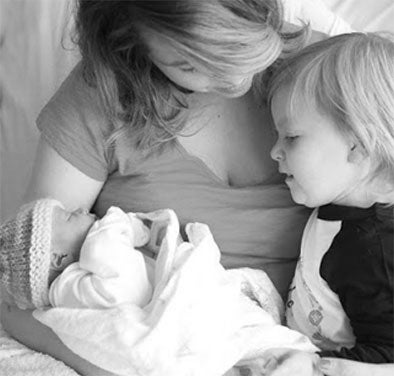 Wife & Children of Matt, Email Marketing
Flowers from Her Precious Baby
Whether you're sending Mother's Day flowers to your wife, daughter, sister or friend, a beautiful floral arrangement from her "baby boy" or "baby girl" is a touching gift that will make her smile. Some of our sure-to-make-mom-smile recommendations include this Sweet Baby Boy™ arrangement featuring blue and yellow flowers with a blue ribbon from her son, or this Sweet Baby Girl™ arrangement featuring a wide array of pink flowers in a premium pink vase from her daughter.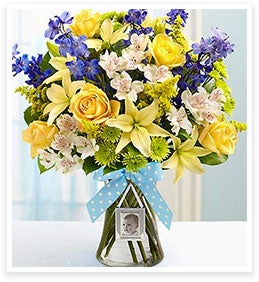 Sweet Baby Boy™ Arrangement | SHOP NOW >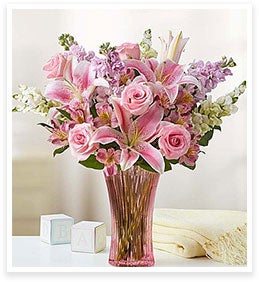 Mothers Embrace™ Arrangement | SHOP NOW >
Personalized Teddy Bears
Children aren't the only ones who enjoy cuddly stuffed animals! Make a new mom feel on top of the world with a customized teddy bear featuring a one-of-a-kind personalized message like "World's Best Mom!" As an added bonus, both mom and baby can enjoy this gift together well past Mother's Day!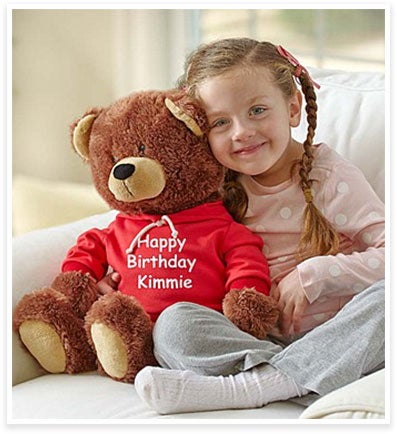 Daughter of Patty, Web Marketing
Personalized Gund® Bear | SHOP NOW >
Plants in Unique Containers
Plants are the gift that keeps on giving, which is why they make great Mother's Day gifts for any mom! Unique planters are all the rage, so for new moms, sending her a Mother's Day plant in a new mom-inspired container would be the perfect gift to make her smile. For example, this white baby stroller planter is a great way to remind her of her baby boy or girl. Whether it's for mom's home or office (if she's back at work), a plant is a gift she can cherish as a memory from her first Mother's Day!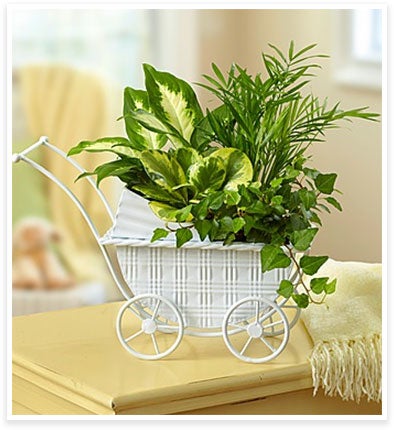 Baby Stroller Garden | SHOP NOW >
Mother Goose Plush
One of the moments new moms cherish most is getting to read books to their little one, which is why we think this Mother Goose plush is a great reminder of those special moments for a new mom. With this charming animated Mother Goose around, she's sure to be amused (and a little less stressed) to have someone else do the reading for her!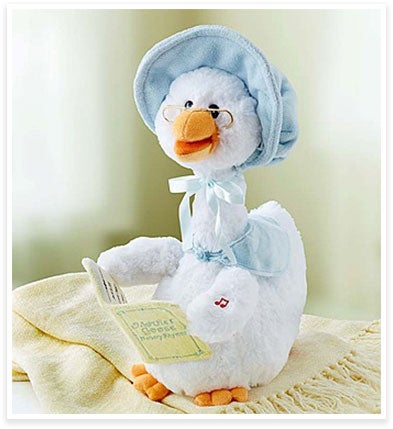 Animated Mother Goose Storyteller | SHOP NOW >
Flowers in Truly Original Vases
Sending flowers in a unique vase like this cute baby elephant ceramic container is a great way to surprise mom. Not only are vases like this absolutely adorable, but they can be reused as a special keepsake in the nursery later on! As an added benefit, did you know that an elephant with its trunk upturned means good luck? :)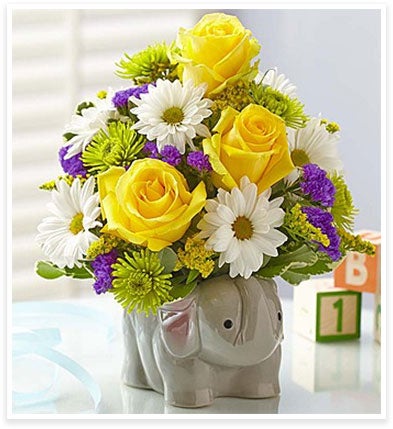 New Baby Boy Elephant Bouquet | SHOP NOW >
Pastel Roses
A rose arrangement in soft pastel colors makes the perfect gift for a new mom. These pretty pink and white Mother's Day roses have a delicate feel, perfect for displaying in her home or office.

Lovely Mom Roses | SHOP NOW >
A Moment of Relaxation
Balancing a new baby with the rest of her busy life is surely exhausting. So while we know how much moms always want to be with their children, some "mom only" time is exactly what the doctor ordered, even if just for a few hours! Consider giving mom the morning or afternoon off, and getting her something relaxing like a spa gift basket to help give her the stay-cation she needs to feel rejuvenated, while still not being far from her baby.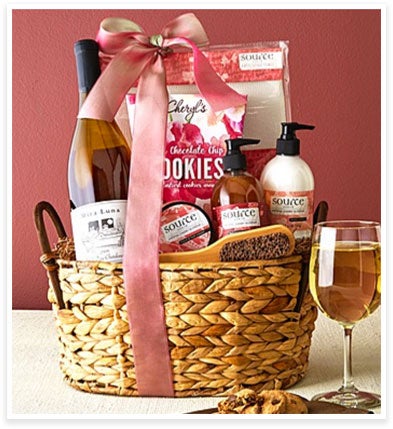 Cherry Blossoms Spa Gift Basket with Wine | SHOP NOW >